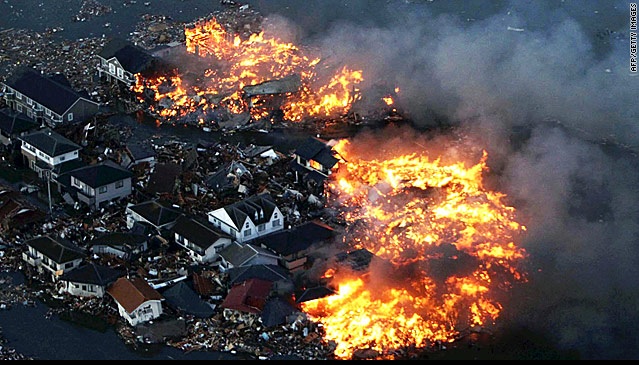 Photo via CNN/Getty Images
My heart is heavy this morning with news of the earthquake and following tsunami in Japan. Coming at the end of a bad week for me personally, I stood in front of the TV in the office lobby this morning and was promptly handed a reality check.
Our first instinct is to help. For those involved in the volunteer abroad world, our first instinct is to go. But right now we can only wait, and watch. Hope, pray, give.
Here are some of the best, most up-to-date links for resources regarding the relief efforts Japan:
Network for Good: The Network for Good has awesome information on charities responding to the disaster, non-profit guidelines. They've also got some excellent tips for giving from Charity Navigator – good enough to repeat.
Â
Give to an established charity.
Designate your gift.
Avoid telemarketers.
Research and follow up.
Give online.
On the Network for Good site, you can also give to reputable charities like Oxfam USA and Save the Children.
Global Giving: Global Giving has already established a Japan Earthquake and Tsunami Relief Fund to which you can give online. Paypal is waiving the transaction fees! Awesome. UPDATE: Global Giving now has texting options. Text JAPAN to 50555 to make a $10 donation to the Global Giving Relief fund.
Red Cross: The Red Cross is already mobilized to help in Japan and Hawaii. You can text REDCROSS to 90999 to make a $10 donation right now. The $10 will be automatically added to your phone bill. There was great success with this method during the Haiti earthquake, and we hope to see it again.
UPDATE 3/11 3:30 pm: Check out this great article from the Huffington Post with more options on how to help.
UPDATE 3/12: Thank you so much for your willingness to go and help; we are so encouraged by the number of people wanting to volunteer. It is still too early for organizations to have issued a call for civilian volunteers. Organizations sending teams right now (Salvation Army, AmeriCares, Save the Children, International Medical Corps) are sending pre-assigned emergency professionals. It will likely be weeks before there are calls for civilian volunteers. Right now the best thing you can do is donate money to their causes. We will definitely do all that we can to keep you updated as volunteering opportunities arise. Please see this CNN article for more info. Also, follow Volunteer Card on Twitter for real-time updates.
UPDATE 3/13: Here's one tangible way you can help: Our friends at Soles4Souls are organizing efforts to send shoes to people in Japan, the same way they did after the Haiti earthquake. Find more info here.
We've made it easy for you to donate your shoes at one of our drop boxes around the country. You can find the one nearest you HERE> If there aren't any drop boxes within driving distance, you can easily ship them to one of our collection centers with discounted rates from our partners at Unishippers.
UPDATE 3/17: If you're tech-savvy, Crisis Commons is asking for volunteers to sign up to monitor a wiki page devoted to the collection of media links, data feeds and publicly available datasets. More info here.