National Volunteer Week Giveaways!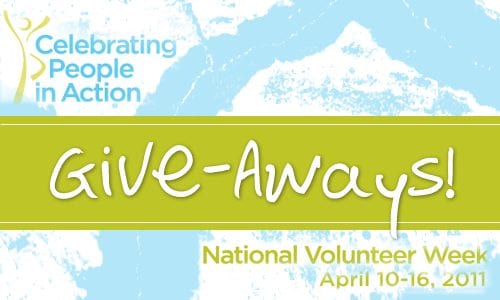 National Volunteer Week Giveaways!
At Volunteer Card, we get to work with a wide variety of volunteer and nonprofit organizations. We come into contact with people from all walks of life who are involved in amazing projects around the world.
For over 20 years, the Points of Light Institute has celebrated National Volunteer Week by "providing visibility, thematic focus, and resources to enable [nonprofit organizations] to commemorate this signature week of volunteer recognition."
This year National Volunteer Week is April 10-16.
And we wanna celebrate.
As a teeny tiny token of our deep gratitude for the work of volunteers, we are giving away stuff all week! And it's easy to win!
The Prizes & How to Win:

Because volunteers need coffee breaks.
How to win:
Tweet your favorite volunteer experience in 140 characters or less to @volunteercard. Use hashtag #MonGiveAway. Example: @volunteercard I went to Mozambique and built a well to get clean water to villagers! #MonGiveAway #NVW11

To hide all your stuff in. This expandable duffel bag from Timbuk2 is perfect for volunteer travelers.
How to win:
Leave a comment on this blog post telling us how you heard about Volunteer Card. Use hashtag #TuesGiveAway. Example: My friends volunteered with _____ organization and used Volunteer Card for insurance when traveling abroad. They loved it and now so do I! #TuesGiveAway #NVW11

For info that's actually informational. This guidebook from Lonely Planet will give you great tips on volunteering wherever you travel.
How to win:
Send us a photo of you volunteering (we're not picky – have fun! This could be you volunteering a cup of coffee to your coworker.) Send a Twitpic to @VolunteerCard with #WedGiveAway hashtag or send an email to contact@volunteercard.com.

Because everybody loves Target. Get something for your volunteer trip. Or ya know, just get something.
How to win:
Write us a nice message on our Facebook wall with the hashtag #ThursGiveAway.

So your adventures can be in HD. The UltraHD Flip Cam records 2 hours of HD video.
How to win:
Write on our Facebook wall if you didn't yesterday!
Follow us on Twitter and RT this phrase to your Twitter followers: Check out @VolunteerCard for travel insurance, 24/7 assistance, and 1000s of discounts exclusively for volunteers. #FriGiveAway #NVW11
Everyone at Volunteer Card is excited about National Volunteer Week and the chance to reward volunteers with some cool stuff! We look forward to hearing from you.
Contest rules: Each participant who has completed the daily task will be entered in a drawing for a chance to win the give-away. Winners will be announced daily at 4:30 p.m. CST and contacted via Twitter, Facebook, or email.