2:46 Quakebook: Support Survivors of the Japan Earthquake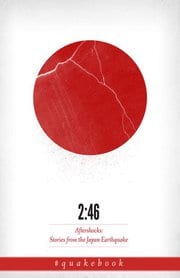 2:46 Quakebook: Support Survivors of the Japan Earthquake
Yesterday I stumbled upon the 2:46 Quakebook project while on Twitter. How I hadn't discovered it before is beyond me since Twitter and I are super close friends.
I did some digging into the project and everything I came up with impressed and inspired me. I'll let the guys in charge explain it to you in their own words:
"The 2:46 Quakebook project started with a tweet. It rapidly grew, and has become a way that we could help all those hit by the the March 11th, 2011 earthquake and its aftermath.Led by OurManInAbiko, a call went out across Twitter for contributors to create a book to raise funds for Red Cross Japan. The idea was to share the stories and experiences of people actually on the ground during the earthquake, whilst raising funds for the Red Cross.

"Hundreds of thousands of people have been affected by this event; from those directly in the earthquake zone, the path of the tsunami, in the evacuation area around the nuclear power plant in Fukushima, to those in many other areas of Japan, whose lives have been disrupted by rolling power blackouts, poor road conditions, food and water supply difficulties, and more.

"The contributions in 2:46 Quakebook have come from a wide variety of sources, and include photographs, personal accounts, drawings; each telling their own tale.

"All revenues from sales of the book go directly to Red Cross, Japan. We urge you to buy the book, buy a copy as a gift, promote it, share it, tweet about it, review it, blog about it, link to it, etc.

"The tale of the evolution of QuakeBook can be found under the hashtag #quakebook on Twitter."
This is a brilliant idea on many levels and really illustrates the power of social media – both to give a voice to the voiceless and bring people together for a cause. Please consider checking out 2:46 Quakebook and purchasing a copy now for just 9.99. Thanks to the cooperation of Amazon, 100% of the proceeds go the Japanese Red Cross.