Snapshot of the Month: Cheeky Chicas and Chicos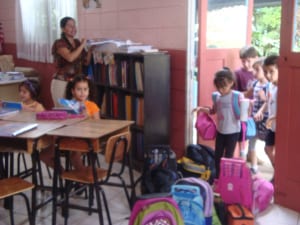 Snapshot of the Month: Cheeky Chicas and Chicos
We met Judy early in 2013 when she came to us for her travel insurance. Her travels were beginning in the spring of 2013 and taking her to various countries, states, and cities over the course of a year. We asked her if she would update us on her travels and share some of her volunteer stories. She gladly obliged.
Cheeky Chicas and Chicos
Niños, I teach a few, nine classes a week and 30 students per class. If they all show up that averages 270 kids a week! Add another 270 as I assist the co-teacher's nine classes.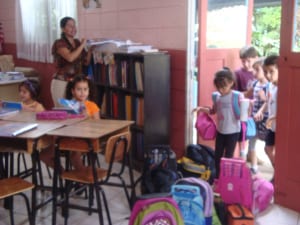 Imagine never teaching before and then facing 540 expectant faces week after week.
As a volunteer for a great organization in San Jose, English Volunteers for Change (EVOLC), I front years 10-12 in grades 4 to 6. Some are interested in learning English as a second language, which is mandatory at Escuela Nueva Laboratorio, most are not!
To find out why we've challenged Grade 6 students to debate whether English should be taught in Costa Rican schools. The whole class virtually shouted "No!", so you can see what we're up against. It will indeed be interesting to hear what they deliver for the affirmative, and the negative for that matter.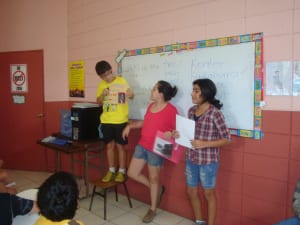 Grades 4 and 5 are just as challenging. They love to colour in and listen to music so any audio or visual aid is going to get their attention and hopefully keep them interested for more than five minutes.
In San Jose, the capital, kids here rule the roost. They pay little attention to their profé [teacher] and think nothing of playing inside the classroom as if they were still outside enjoying recess.
The daily mantra is 1, 2, 3, silence please!
And it works, but you have to say it a lot. Never turn your back on these kids as it is a signal they can get out of their seats and dong their nearest classmate on the head. Then all hell breaks loose. You spend the next 10 minutes calming them down.
So best that both teachers maintain eye contact all times with these little cheeky chicos and chicas, which is difficult: two against 30!
That said, if you want to take some time out to help schools in need and do something rewarding, teaching is a great way to give back.
I have to follow the school curriculum, so coursebooks are provided. It helps if you have more than just a little Spanish, in my case, under your belt, but brush up on words such as sit down [sientese], be quiet [callarse], listen [escuchar], listen and read [exuchar y leer], write [escribir], draw [dibujar] and to be polite, always say please [por favor] following the request.
The best part of the day is going home, not because you've had enough, but simply knowing you may have imparted one word of wisdom,  in English of course!
This blog was written and photographs taken by Volunteer Card holder, Judy. She is a freelance writer and communications specialist from Australia. Judy is currently traveling through the US and Central and South America as a volunteer.