Steps to Safety During International Travel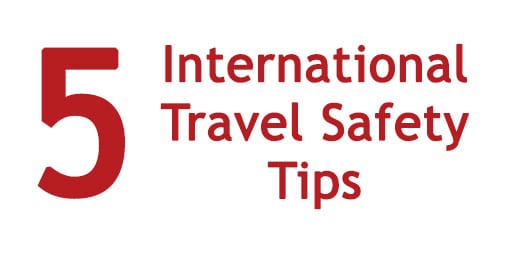 Steps to Safety During International Travel
When volunteer trips take you abroad it is important to be well prepared. International travel safety requires planning and awareness about the specific location you are visiting. When you are not accustomed to a certain culture, large city, or language you are at a higher risk for mishap. An international volunteer should always make sure that their travel insurance policy is up to date prior to departing. Should anything go wrong, with your travel plans or your health, you will want to make sure you have the best coverage possible.
As recommended by the US Bureau of Consular Affairs, here are 5 steps you can take to ensure international travel safety:
5 Steps to Safe International Travel:
1. Learn local laws and customs.
Different countries operate in different ways and have many different laws, which you are expected to abide by. Do quality research on your destination so that you have a good understanding of the local law enforcement, expectation, and customs.
2. Gather all of your necessary travel documents well in advance.
You are generally required to have a valid passport when traveling internationally. Other travel documents may include: a second type of photo identification, a birth certificate, or a country-specific visa. You can contact the embassy of your foreign destination for more information about international travel documents. You should also keep two photocopies of your travel itinerary, travel documents, passport and visa. Leave one copy at home with a friend or relative and keep the other with you, separate from the original.
3. Be aware of travel alerts and warnings.
International travel warnings are posted more frequently than most people recognize. The State Department issues travel alerts and warning to recommend postponing travel to a country for reasons such as civil unrest, dangerous conditions, terrorist activity or because the US has no diplomatic relations with the country. In the months prior to your trip, get in the habit of checking these alerts and warnings.
4. Be prepared for an emergency.
One piece of information that international travelers usually overlook is knowing exactly where their closest Embassy or Consulate is located. In the case of an emergency, these personnel are available to assist you 24/7. You should also have an evacuation plan, just in case.
5. Prepare to handle money overseas.
Each country has their own type of currency. The more you know about the currency in your destination the better off you will be. Some things to know before you travel are the type of currency used and the exchange rate. If possible, avoid carrying cash. Some alternatives would be travelers checks or major credit cards, but you will want to make sure these are accepted at your destination before departing. In your home country, you should notify your bank and credit card companies that you will be traveling overseas. By doing this you'll avoid having your credit or debit card declined when you try to make a purchase.
If you are insured with one of IVC's travel insurance policies you'll have access to 24/7 travel and medical assistance to help with things like
Lost passport and travel documents
Emergency telephone interpretation assistance
Urgent message relay to family, friends or business associates
Up-to-the-minute travel delay reports
Embassy or consulate referral
Travel Assistance & Concierge Services are provided by the designated provider as listed in the Description of Coverage.