4 Ways To Give Back On The 4th Of July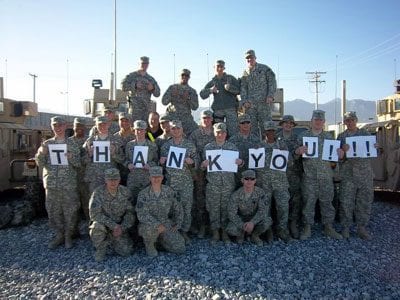 4 Ways To Give Back On The 4th Of July
The 4th of July is about more than hot dogs and fireworks. Here are 4 ways to give back and show your support for our troops:
1. Help out a military family.
Most of us have some connection to a military family. Think about simple things you could do help them out: watch their kids, mow the lawn, wash the car, make a meal, buy them groceries. Little things mean a lot and are a great way to show your support.
2. Write a soldier a thank you letter.
Anysoldier.com helps you find soldiers and gives you instructions on how to send letters. Another option is to join the letter writing team on Solider's Angels.
3. Put together a care package.
AdoptaPlatoon.org will give you all the information you need to know about sending care packages to troops overseas. As you can see from the photo on the right, the troops really appreciate it!
4. Volunteer at your local 4th of July celebration.
Our friends at Volunteer Match have volunteer opportunities for you to help out with 4th of July celebrations in your neighborhood. Just go to Volunteermatch.org and type in your zip code to find opportunities in your area.
Do you have other ideas to add to this list? Share them in the comments below! We'll be sharing your practical ideas for volunteering on the 4th of July all week via our Facebook and Twitter.