June Snapshot: Go! Overseas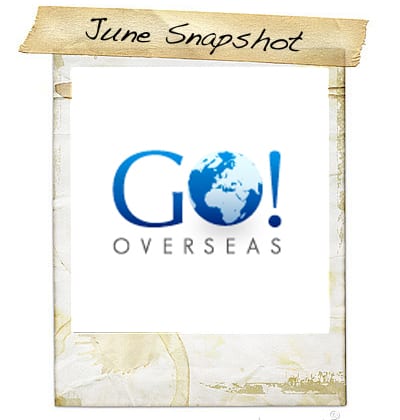 June Snapshot: Go! Overseas
June's Snapshot organization is Go! Overseas. Volunteer Card has formed a natural friendship with Go! Overseas because we just have so much in common. Go! was created with the goal of establishing a centralized website to provide the resources required for meaningful travel abroad. That idea has grown into a community driven website of like minded people who are all passionate about teaching, studying and volunteering abroad.
Go! Overseas is an amazing resource for those traveling abroad and a great place to share your interests with others. Go! Overseas is definitely a one-stop shop for the volunteer abroad world. They are also on the verge of creating a new rating and review system – we can't wait to see it!
What You Should Know
Have a question about studying, teaching, or volunteering abroad? The GO! Q&A forum has answers for that long list of worries. You'll get feedback directly from Go!'s experienced staff members, as well as tips from other travelers like you.
The Life Abroad Blog publishes some of the best articles and content related to…well…life abroad. As someone who does an insane amount of Internet surfing in the world of volunteer travel, I can tell you that the content from the Life Abroad Blog will challenge, entertain, and impress you.
Looking to study or teach or volunteer abroad but have no idea where to start? Go! lists programs for every country you can think of.
How to Get Involved 
Become part of the community. Generating fruitful discussion around overseas travel helps us learn from each other and share experiences. Pre-trip planning can be difficult enough, but it's even more difficult when you're trying to do it alone. Go! Overseas brings together a community of like-minded people to help you through. After you return from your trip, the Go! community will also be a great place to help you process your time abroad.
Find a program. This one's self-explanatory. Start here.
Contribute. Are you an expert in dealing with elephants in Thailand? No? Well, somebody is. Chances are, you have gained valuable insight that could help out someone else. Consider writing an article for Go! Overseas.
Share. The content is solid and the people are great – tell your friends about Go! Overseas and share the articles you find useful.