What is Microvolunteering: How Does it Work?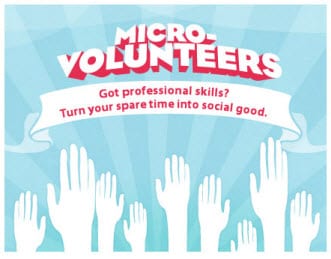 What is Microvolunteering: How Does it Work?
You've just finished your first project of the day and have ten minutes before your next meeting. You log onto Facebook, comment on a few pictures, tweet something about wishing you were at the beach.
What if in that same chunk of time twenty, ten, even five minutes you could help a non-profit design a webpage, edit copy, or rename a program. Now you can. Sparked co-founder, Jacob Colker, hopes to see people change their mentality from "I don't have time to volunteer" to "I'll use the odd time I do have."
He says, "My hope is that at scale we have millions of people sharing their skills and expertise and helping to move humankind forward." Jacob calls it microvolunteerism.
According to Sparked, it's defined by four major characteristics:
It's simple. You volunteer any time, virtually anywhere (thanks to iPhones, and other mobile devices.)
It's bite-sized. The projects or challenges are broken down small pieces so that you can complete one in any given amount of time.
It's crowdsourced. It's a smaller, more defined group of people (a non-profit) asking a larger group of people (online communities) for assistance or advice.
It's networked managed. It's not top-down or hierarchical, you're not going to answer to anyone or feel pressured by time constraints. Instead, your work/suggestions are reviewed and rated by other online volunteers.
Personally, I've found microvolunteering to be an easy, convenient way to use my spare time for a better cause. On Sparked, it took me less than two minutes to create a profile. Just a couple of clicks and I'd entered my skills (Twitter, copywriting, blogging) and then selected causes that really grip my heart (poverty, hunger, and education).
From there, I was given two challenges. I chose the challenge of renaming a brand for a Cambodian immersion experience. As I began to look through the responses of other microvolunteers, I noticed a lot of their suggestions were the same or similar to mine. So instead of adding to the long list of suggestions, I gave a thumbs up to a few, knowing the non-profit will see my vote and consider that in their decision-making process.
There's a lot of buzz about the actual benefits of microvolunterism. Does it really help? How much can you do in a span of a few minutes? Sparked has addressed critiques and answered a lot of these questions here. But in my opinion, the best way to find out is to try it yourself!