Leap into College Abroad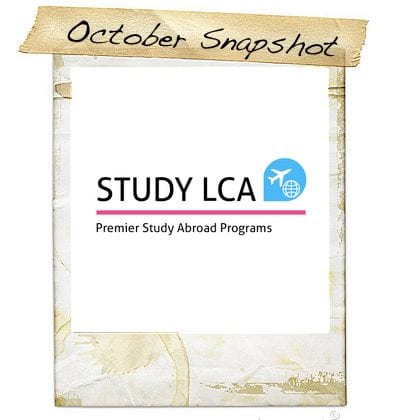 Leap into College Abroad
For the month of October, we're excited to feature an organization that exists to expose today's youth to the world. Leap into College Abroad (LCA) strives to provide students with premier study abroad experiences for an affordable price.
Why LCA?
The staff at LCA are experienced travelers who understand the true cost of a study abroad trip and work to make sure that this price stays as low as possible for students. LCA keeps the process simple and delivers personalized service and availability, which includes remaining entirely honest and transparent with its customers. Currently, LCA offers study abroad programs in Italy, France and Spain. The LCA experience extends beyond the academics by including additional benefits such as small travel groups, an excursion to an additional country while abroad, various activities within the host country, a friendly and knowledgeable program director, internet access, health insurance, a transportation pass, airport pick-up, a cell phone, and the freedom for the students to explore in the way they want.
How it Works:
Get informed: At this stage, students should check with their home university to make sure they are eligible to study abroad.
Save Your Spot: To encourage early application, LCA will save the student's spot in the program for 14 days with no application fee or deposit required. Students are able to download the forms needed to apply and track the progress on their application.
Secure Course Credit and Funding Options: At this time, students receive their course syllabi to ensure that their abroad course credits will transfer to their home university. There is also more information on how to apply financial aid and find scholarships for the trip.
Complete Your Application: Here it is! This is the time for students to submit their application to enroll in the program, submit any additional required materials and begin earning rewards from LCA.
Sound like a good deal? We think so! Get to know them better by visiting their website, liking them on Facebook or following them on Twitter!