Gratitude Week 2012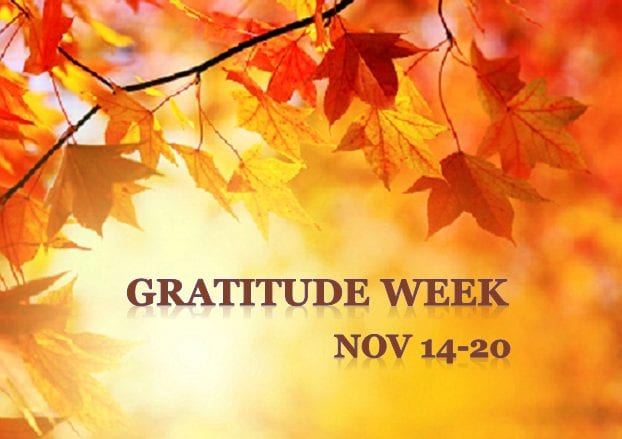 Gratitude Week 2012
At Volunteer Card, we find our joy in supporting those who are out there serving others and giving back all over the world. Without all of you willing to give so much of yourselves for the good of others, the world would not be as bright of a place.
We have reached the time of the year when it is time for us to show our gratitude for all that you have done and have yet to do. We know that the service you do for others requires sacrifice and commitment. We are here to say thank you and to let you know that your contributions do not go unnoticed.
As our way of saying thank you, we would like to offer you the chance to win some awesome stuff on each business day from November 14-20, leading up to Thanksgiving. In the spirit of giving back, each giveaway we offer is from an organization that will turn around and do something good because of the purchase we have made. Give back and pay it forward.
To participate, all you need is internet access and a willingness to share your experiences with us. We will randomly select a winner at the end of each day from the pool of submissions.
Day 1
Wednesday, November 14: OAK, which stands for Ordinary Acts of Kindness, believes that real change is made through small acts of caring that occur everyday. For each backpack purchased, OAK will donate backpacks and school supplies to homeless youth in their community of Austin, Texas as well as overseas to orphans in Rwanda.
How to Win an OAK Backpack: Tweet or email us a photo of something or someone you are thankful for. Include hashtag #Day1.
Day 2
Thursday, November 15: Solo Eyewear is committed to restoring the gift of sight to those in need around the world. Each pair of sunglasses sold helps restore vision for  two people in need through funding a pair of prescription eyeglasses as well as a portion of cataract surgery.
How to Win a Pair of Solo Eyewear Sunglasses: Tweet or email us one way that someone has given back to you over the past year. Include hashtag #Day2.
Day 3
Friday, November 16: You have causes that you care about. As a personal thank you, we'd love to give a $100 donation to the nonprofit of your choice.
How to Win the $100 Donation to a Nonprofit of Your Choice: Tweet or email us your favorite picture of you volunteering/giving back. Include hashtag #Day3. Please also provide us with a link to the organization of your choice so that we can check out the good they are doing.
Day 4
Monday, November 19: WeWood strives to restore Mother Nature and does so through the sale of all-natural timepieces. For each watch purchased, WeWood will plant one tree to promote the health and survival of our environment.
How to Win a WeWood Watch: Leave a comment on this blog post or email us describing the funniest/craziest thing that has happened while you were volunteering.
Day 5
Tuesday, November 20: Toms works to provide shoes for children in need all around the world in order to combat the consequences of living barefoot including disease, injury and denial of education. In the spirit of Toms One for One, we'd like to give you two pairs of Toms: one for you and one for a friend.
How to Win Toms for You + a Friend: Tweet or email us one specific way that you plan to give back this holiday season. Include hashtag #Day5.
Thank you!
**If you send us your submission via email and are selected as a winner, Volunteer Card reserves the right to post your submission on our Facebook and/or Twitter.