Snapshot of the Month: Compassion International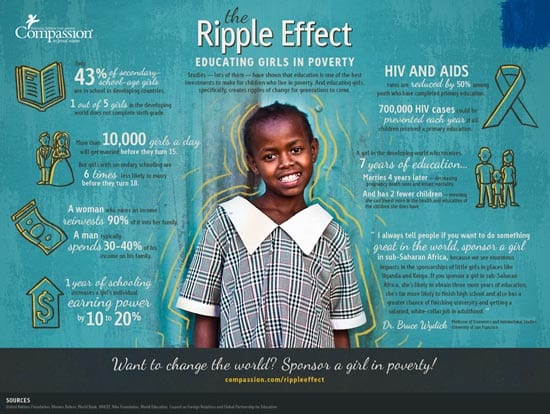 Snapshot of the Month: Compassion International
This month we'd like to feature one of our great partners, an organization that is doing much for children all over the world, Compassion International.
Compassion began providing for orphans that were left homeless, without food, education, and health care after the Korean War in 1952. Today they exist as a child advocacy organization that is committed to individual children and their development.
Why Compassion International?
We really admire this organization because of their unwavering integrity. According to Forbes magazine, Compassion has been listed among the largest U.S. charities, number 16 to be exact. Although their outreach is likely to affect entire communities, their goal is to release children one-by-one from poverty. The organization works with 1.4 million babies, children, and university students in 26 countries throughout Asia, Africa, and Latin America.
What makes Compassion International different?
Compassion operates with a Holistic Child Development Model that has three parts: child survival, child sponsorship, and leadership development. Their model begins in the earliest stages of a child's development and continues through young adulthood.
How can you get involved?
You can become a Compassion Volunteer through their Advocate Network which begins with first sponsoring a child. Being an advocate means being one who defends and pleads another's case. Compassion has various different ways for you to commit your time, talents, and influence to help children in need. Click here to learn more.
Stay up to date on what Compassion International is doing by following them Twitter or liking them on Facebook.