Sharing a Commitment to Serving Abroad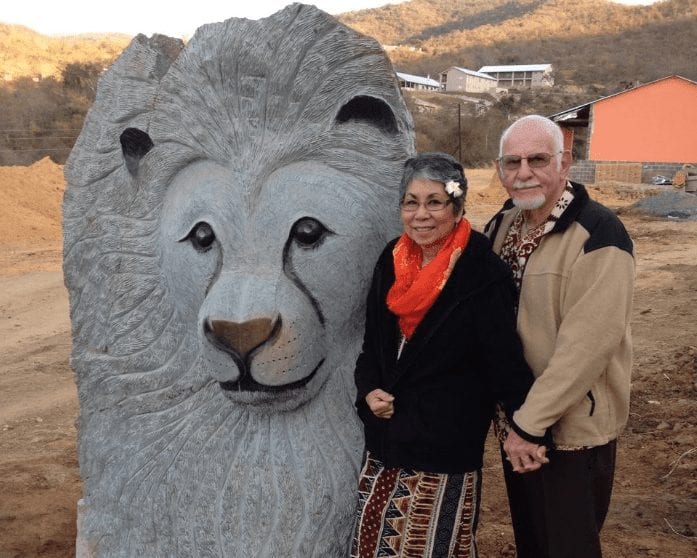 Introducing Jere and Janet Scott
We love to highlight the work our volunteers are doing around the world. This month we are so excited to celebrate two of our incredible volunteers–Jere and Janet Scott. Jere (a retired pastor from Alaska) and Janet (a retired teacher from Hawaii) had lost both their spouses to illnesses and met on e-Harmony in 2004. Jere proposed to Janet and they were married 30 days later! They met in person for the first time at the airport and married that same day. Jere and Janet felt they were brought together for a greater purpose and called to serve as a team. They have been serving together with Heart for Africa in Swaziland each year since 2005. Jere and Janet have been Volunteer Card members since 2011. Their story and commitment to serving inspired us so much, we asked Janet to share their story!
How it all got started
We started our mission life in 2005 when Heart for Africa (HFA) was called Dream for Africa, on our first trip to Swaziland. Along with two mission trips to Bangladesh in 2006 on our own, and then with HFA, we did mission trips to Malawi, Kenya, and Swaziland. Rather than traveling with HFA's scheduled mission teams, we made arrangements to stay at children's homes in Swaziland on our own, serving at El Shaddai Ministry from 2007 to 2009 and at HFA's Project Canaan since 2010 to now. This year was our 13th consecutive year serving in Africa.  We usually stay for about six weeks. Including emergency missions, I've made 14 trips and Jere, 16 trips.
Serving with Project Canaan
At Project Canaan, we helped to build and equip their carpentry shop, Jere created and built double-decker baby cribs and bunk beds, window screens tailored for their unique windows, etc. over a period of six years. This year we extended the wood shop by 30% longer. In 2016, we helped build a pottery barn so that Project Canaan could produce its own ceramic beads and pottery pieces. We trained the Swazi crew to make, as well as process clay using earth from a dried up reservoir. This year we extended the shop by 50% and Jere trained the crew to make molds and slip cast mugs. All items are for sale through the HFA gift shop website.

At Project Canaan my tasks have always been different…from painting the exteriors of shipping containers, teaching two-year old preschool students, helping at the Baby Home, cleaning and getting new volunteer lodging quarters ready, organizing and consolidating donations in containers, processing clay from Swazi dirt, and training Swazi workers to create glazed ceramic beads, to face painting for Vacation Bible School.
A journey of strength
Jere is 84 years old, has one blind eye, two artificial knees, and an arthritic hip. I'm 71 with glaucoma in both eyes and wear a knee brace. But none of it matters when we do God's will because He empowers us with the energy, the strength and the resources needed for whatever it is that He wants us to do. This year we were robbed and I was assaulted (not badly) in our lodging during the night. But that will not deter us from going back to serve again next year.

Project Canaan is now home to 167 children, many who have been abandoned, even in pit latrines and plastic bags beside roads. Since breaking ground in 2009, it has been working toward self sustainability by 2020. On the 2,500 acres, along with a farm, dairy, egg-laying hen-houses, and an aquaponics greenhouse to feed the children, there is a medical clinic for the children and staff, a preschool to elementary educational system, a carpentry shop to manufacture furniture and wood crafts, artisans shops creating online items for sale, and a construction crew to keep building new buildings. HFA, not only maintains Project Canaan, but year round also helps to feed 29 church communities throughout Swaziland.

We love returning to Project Canaan each year. We have a connection with the Swazi workers we have come to know and maintain a year round relationship with the Maxwells, co-founders of HFA, who also live on the campus, so we know how to anticipate what we need to bring for the next trip.
Looking forward
There are needs everywhere you look, as close as your own neighborhood and as far away as the other side of the earth. There are many opportunities to serve as a volunteer and your options may depend on what tugs at your heart, but time, commitments and financial resources may limit your choices. Whatever your decision, do your research, seek out reputable organizations, pray for God's guidance, and go with a willingness to be a humble servant."
Jere and Janet are an inspiration to so many. Their commitment to volunteer service and passion for helping others is evident in all they do. We wish them the very best as they continue to make a difference in Africa and wherever their journeys may take them!