November Snapshot: WWOOF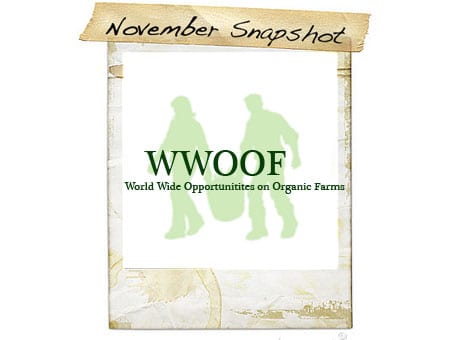 November Snapshot: WWOOF
For the month of November, we're excited to feature a very unique organization that allows volunteers to exchange their hard work for an experience in an organic/sustainable lifestyle. WWOOF, which stands for World Wide Opportunities on Organic Farms, exists to link volunteers interested in these organic lifestyles to organic farmers or smallholdings.
How it All began
In 1971, Sue Coppard, a London secretary, set up a work weekend for herself and a small group of city dwellers who were interested in getting out of the city and learning more about the growing organic movement. The weekend experiment was a huge success, and Coppard's idea quickly gained momentum. Since then, the vision of the organization has spread to over 40 other countries.
How it Works
Whether you're an individual who is just starting to be curious about the increasing number of "organic" labels in your grocery store, someone who has been eating organic for years, or a smallholder yourself, WWOOF's website will help plug you in to the right resources.
Fun Facts to Keep in Mind
WWOOF is an "exchange." As a volunteer, you will be exchanging your hard work for the experience, free stay, and food from your host family. WWOOF volunteers are able to live with their host farms as part of the family, and from here an exchange takes place. The volunteer works for the family and the family trades their knowledge, opens their home, and provides organic, homegrown meals for their volunteers.
Volunteers do not pay for their stay, and hosts do not pay their volunteers.
WWOOF organizations usually charge a small fee to hosts and volunteers. This fee helps maintain and develop the WWOOF network. Some countries have their own national WWOOF organization, to which you pay a small fee. Other countries do not, but instead have a list of independent host families.
If you think you fit the description of a potential WWOOF volunteer or host family, visit their website, tweet at them, or check out their Facebook page, and start WWOOFing!