April Snapshot: Students of the World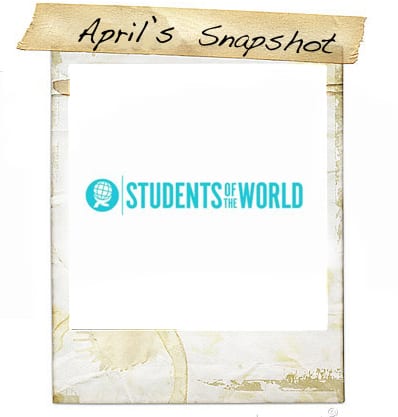 April Snapshot: Students of the World
For the month of April, we're excited to feature an organization that focuses on telling stories through a variety of media. The organization strives for individuals to grow from being students on campus, to Students of the World.
How It started:
In 1999 Courtney Space began Students of the World as a student organization at Duke University. Over the past 12 years Students of the World has told the stories of more than 40 organizations in over 30 countries through film, photography and journalism. Courtney recognized that while college students can't always afford to give financially to the nonprofits that they support, they can use their creative strengths to take a photo, make a video and tell a story to drive the mission that inspire them.
In 2003, Students of the World became a 501c3 nonprofit, connecting documentary teams with organizations from Tanzania to Thailand. In 2006, they began a partnership with the Clinton Global Initiative (CGI) to cover the progress of the CGI initiatives.
This organization has made it clear, that while they continue to grow, change and adapt, their beliefs and mission remain constant,
Storytelling is a profound and essential contribution to the advancement of society, and it is the responsibility of our generation to not only create, but demand media that shines a light on progress.
The stories that are created and submitted by the Students of the World have a focus on increasing support and awareness for organizations who are giving back and improving the lives of others in six key areas: water, women and girls, education, environment, health and development & Recovery.
How to Get Involved:
Are you a college student, working professional, or SOW alumni? Or are you just interested in giving an hour or two to help shine a light on progress? Students of the World would love to have your input and support by just clicking on the above links, learning more and getting involved!
For more information visit their website!