May Snapshot: Greenheart Travel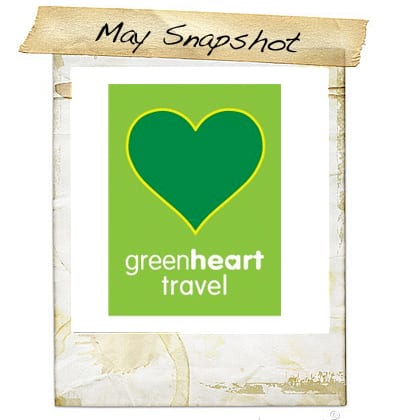 May Snapshot: Greenheart Travel
May's Snapshot organization is Greenheart Travel. Volunteer Card is thrilled to partner with such a unique, forward-thinking organization. Greenheart Travel is a division of the Center of Cultural Interchange, a non-profit international educational exchange organization dedicated to the promotion of cultural understanding, academic development, environmental consciousness and world peace. Here's a bit more direct info:
Based in Chicago, Illinois, Greenheart Travel's mission is to provide life-changing travel experiences that lead to cultural understanding, social responsibility, environmental awareness and personal growth. Through travel, we aim to fulfill our vision of a more tolerant, peaceful and environmentally sustainable world.
Volunteers in Greenheart programs work with local residents on conservation and social development projects in the U.S. and around the world. They have the wonderful opportunity of making a lasting impact on our planet.
What You Should Know 
Greenheart Travel furthers the Greenheart movement of connecting people and planet in a number of ways. Whether you Study, Volunteer or Teach Abroad, your involvement with contribute to a more thoughtful, more accepting and more socially responsible future. Their newest development is the Global Greenheart Initiative for their participants abroad.
The Global Greenheart Initiative consists of:
The Greenheart Club: High School students studying abroad for a semester or academic year and ESL Teachers are aided in finding additional volunteer work abroad. They will be able to then log their volunteer hours in Greenheart Travel's database and receive a certificate at the end to show their accomplishments. Greenheart Travel assists students and teachers in finding volunteer and community involvement opportunities
Greenheart Grants: Greenheart Travel is proud to give small grants to participants who want to make a more lasting impact on their communities abroad. Participants work with their local community to find an opportunity to create a social or environmental project that will make a difference locally. Past projects include building small libraries, replacing non-energy efficient light bulbs with energy efficient ones, creating local volunteer projects, etc.
Volunteer abroad opportunities through Greenheart are built around partnerships with grassroots projects that focus on long-lasting community development on all levels, from mentorship programs to environmental and animal rescue efforts.
How To Get Involved
Volunteer.
Help make a difference in one of a dozen countries by spending 2012 weeks volunteering with a meaningful service project. Volunteers of all ages can choose from projects in children's education, environmental preservation, women's empowerment and community development, each chosen to reflect our mission to help build a more sustainable, diverse and peaceful world.
High School Abroad.
Choose from 18 destinations to spend a semester or year of high school abroad. You will experience daily life like any teenager in your host community and gain first hand knowledge of a new language and unique culture.
Teach Abroad.
Choose from 5 different programs throughout Asia and Eastern Europe to Teach English as a Foreign Language. College graduates of any major can earn money while traveling and making a difference in the lives of children. Many teachers save between $5,000-$15,000 per year!
Host a Student.
CCI invites American families to join thousands of others across the U.S. to enjoy the enriching and rewarding experience of becoming a volunteer host family. You can host from a few weeks in the summer, or up to a 10-month academic high school year. Now more than ever, you can make a difference by hosting an exchange student making the lifelong dream of an international student come true and contributing in a small, but significant.
Advocate for Cultural Exchange.
You have the opportunity to change the world by bringing cultural exchange to your community. Local Coordinators not only place and supervise international students and host families in the U.S., but also act as a local source of information to American students wishing to study and travel abroad. Apply to become a Local Coordinator today!