Volunteer Story: Marine & Terrestrial Conservation in Kenya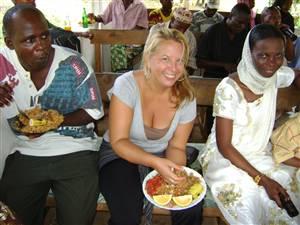 Volunteer Story: Marine & Terrestrial Conservation in Kenya
A huge thanks to Paula for sharing her volunteer story!

Two years ago I ventured to Kenya for a year to volunteer my services, share my privilege, participate in a multi-cultural experience, and conduct environmental conservation and sustainability research during a 6-month expedition with Global Vision International. We lived on a remote island in the Indian Ocean without running water or electricity. I participated in various marine (primarily cetaceans) and terrestrial (primarily the Angolan Black and White Colobus Monkey) conservation and research projects. As part of a BTEC certification program I was hands-on with the team building and daily planning of environmental research surveys, emergency action planning, risk assessments, base management, expedition logistics, and data entry supervision. Our expedition team also taught English classes and workshops at Mkwiro Primary School. I also consulted and served as Project Manager on various capacity building, development and community projects including writing a Swahili to English translation manual
After the expedition ended, I remained in Kenya after being offered the opportunity to intern with CORDIO-EA. There, I worked to update their website and, as Project Manager of the Schools to the Seas program, I was blessed with the opportunity to share the magnificence and beauty of nature and the marine environment as well as water safety instruction with local school children. I also developed curricula and trained teachers to become environmental educators and stewards.
I feel honored to have taken part in such a special project and hope to be able to continue to do work that makes such a positive contribution to society and future generations. So, the next leg of my journey was to come to Honolulu, Hawaii where I am in the last semester of getting a Masters degree in Global Leadership & Sustainable Development. I plan to head back into the world to apply my communication and service-leadership skills to make a humble yet tangible contribution to humanity by encouraging, inspiring, and promoting global justice, cultural sensitivity, and the principles and values of sustainable development in an academic setting.