12 Best Places to Travel Alone | Solo Female Travel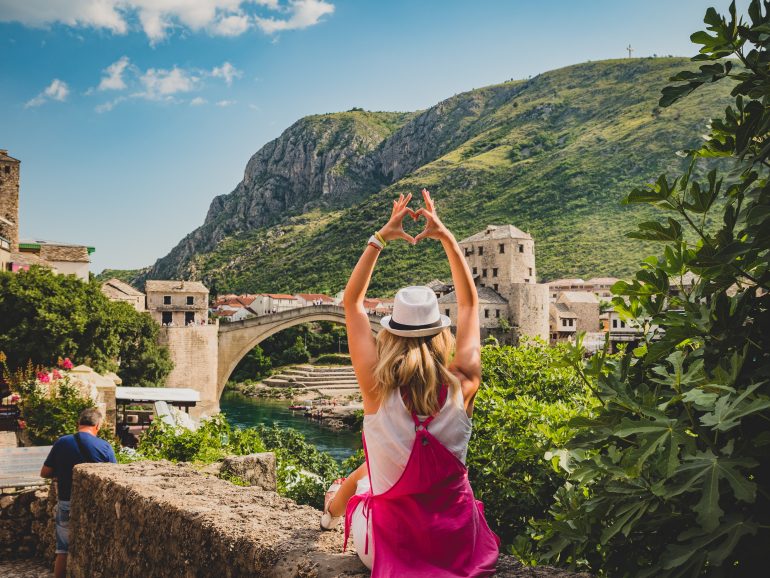 12 Best Places to Travel Alone for Solo Female Travel
You can't always find a traveling companion, and some experiences are best-enjoyed solo! Although every destination has its share of local crimes, some places are just more welcoming than others, particularly for solo female travel. If you're scouting for the best places to travel alone and the safest places to travel alone, women will find these destinations equally safe and exciting for solo travel.
Key factors for top solo female travel destinations:
✅ Cost to travel considers the feasibility of actually traveling to a destination, based on the average trip cost.
✅ Current Travel Advisory from the U.S. Department of State measures the current travel conditions to a particular area.
✅ Gender Equality Score observes the gender gap of a nation by combining economic, educational, health, and political opportunities for local women. Collectively, these factors can elude to the opportunities and average treatment of women in the area.
✅ Crime Index Score refers to the estimated, overall crime rate of a nation. Lower scores indicate lower levels of criminal activity.
1. Australia
Remote and exotic, Australia offers an expanse of thrilling wonders. Escape the tourist crowds by traveling west where you'll uncover white beaches and endless expanses to barbeque under the stars. Karijini National Park offers towering red rocks and cascading, azure falls. Encounter Aboriginal traditions with an expert guide, or swim alongside whale sharks in the Ningaloo Reef.
On average, travel costs in Australia fall around $135 per day in addition to the cost of airfare. Your plane ride will most likely be your largest expense, so start saving early!
Higher than the global average, Australia does well in offering educational opportunities and professional growth for women. Many local women work in professional roles involving business, law, or health and welfare.
If you use common sense while traversing the big cities and stick to daytime travel, you should avoid putting yourself in harm's way.
2. Iceland
An emerging wonder for travelers, Iceland offers a magical escape filled with crawling glaciers, breaching whales, and gleaming Northern Lights. You can soak in bubbling springs heated by volcanoes, kayak the fjords under the midnight sun, or visit the thriving cafés in the colorful capital city, Reykjavík.
The average cost of living in Iceland is significantly higher than the U.S. Your lodging and food bills will most likely take the majority of your travel budget, which averages $176 per day.
Iceland maintains the best gender equality in the entire world for the tenth year in a row! The country rates highest in political empowerment and education, with several women serving in parliament.
Overall, Iceland remains an extremely safe country, which makes it excellent for women travel safety and one of the safest places to travel alone.
3. New Zealand
New Zealand is the world's wild card with every extreme sport imaginable. Hike the steaming, volcanic plains of the Tongariro Crossing. Witness surreal glow worms clinging to the Waitomo Caves. Discover hobbit homes from the beloved Lord of the Rings series.
Living in New Zealand costs slightly higher than in the U.S., though average travel prices appear comparable to the U.S. with an average of $120 spent per day.
Most women in New Zealand pursue higher education in secondary and tertiary degrees. Likewise, local ladies hold many jobs in the business, law, health and welfare fields.
If you make sure to lock-up your room and any vehicle when you leave, you'll discourage most attempts of vandalism or theft.
4. Canada
In Canada, you can get lost just about anywhere, from bustling cities to wild expanses of untouched wilderness. Ski down powdery slopes, divulge in incredible lobster on Prince Edward Island, or tour the UNESCO World Heritage site of Quebec City's Old Town.
The cost of Canadian travel depends on where you stay, whether you opt for more populated cities or the remote outdoors. The average daily travel cost ranges at $132 per day.
Canadian women frequently pursue higher educations, and many women maintain pastoral positions.
Crime rates remain relatively low throughout this remote country, especially in the far-reaching northern regions.
5. South Korea
South Korea offers a unique paradox of rich tradition and technological advancement. You can revere acres of ancient tombs, ogle bizarre sea creatures at the Jagalchi Market, ask directions from AI robots, and look forward to riding self-driving buses in late 2019.
If you can nail a great deal on airfare, South Korea makes for an affordable travel destination. The daily average travel budget falls at $97 per day.
Though Korea ranks lower for gender equality, locals say that women's voices are growing louder. Numerous movements on gender equality occurred in the late '90s, and the beliefs about traditional female roles are shifting slowly.
Crime in South Korea is considerably lower than most other developed countries in the world, making it an ideal place for solo female travel.
6. Austria
Austria comes as a complete package for outdoor adventurers and cultural enthusiasts alike. Revel in Vienna's colorful world of art, music, baroque architecture, and traditional dance or dive into Eisriesenwelt, the world's largest accessible ice cave gleaming with natural limestone.
Average daily travel costs in Austria stick around $119 per person per day. With affordable food and entertainment, Austria makes a cost-effective destination for solo women travel.
Many women work part-time positions; however, the Austrian Development Agency is actively working to close the gap and empower local women and girls.
Austria ranks as one of the safest countries in all of Europe and the entire world. Street crimes are incredibly rare, as are serious crimes.
7. Israel
Home to the Holy Land, Israel embodies Biblical history. Every Christian and philosophy enthusiast wants to experience an authentic and culturally rich Holy Land tour. Bob in the Dead Sea, behold the Church of the Nativity, and discover the many secrets within the Old City of Jerusalem.
Visiting Israel remains considerably affordable for travel. On average, it only costs $92 per day for your daily travel budget in Israel.
Israel drafts women into the military and the government holds anti-discrimination laws. Consequently, many Israeli women hold professional jobs, especially within education and journalism.
Israel maintains relatively low crime rates from minor to severe offenses.
8. Poland
Poland rolls cultural enrichment and outdoor thrills into an affordable, one-stop destination. Relax on Baltic Sea beaches in the north or ski down Zakopane slopes in the south. Let some Polish bigos warm your belly before gnome-spotting through Wrocław's Market Square.
Traveling in Poland is incredibly affordable. On average, you can budget $72 a day for your Poland travels.
Poland maintains one of the smallest pay gaps, and young women are more likely to seek higher education than men. Many Polish women graduate with degrees in business or administration.
Outside of occasional pickpocketing, which you can mostly avoid, Poland continues to rate as one of the safest countries in Europe.
9. Norway
Speckled with fishing villages, powdered peaks, and scenic fjords, Norway embodies a photographer's paradise. Ferry down the breathtaking Geirangerfjord, home to the iconic Seven Sisters Waterfall and behold the Northern Lights dancing in midnight skies.
Food and lodging may take the most of your trip budget, but you can plan to spend an average of $116 each day during your travels in Norway.
Ranked as one of the highest nations on gender equality, Norway encourages women to seek higher education and many women run for political leadership roles.
Norway maintains a relatively low crime rate, despite higher chances of pickpocketing near public transit sectors
10. Malta
As a set of tiny islands in the Mediterranean Sea, Malta mixes British, Italian, and Middle Eastern cultures. Get lost in many museums sprinkled with pillaging pirates, crusading knights, and glittering sultans. Bake on sunkissed beaches or explore legions of underwater ships.
With cheap entertainment and local transportation, you can budget a Malta trip for an average of $88 per day.
Women in Malta tend to live longer than the average man, and most women retain high literacy rates through all levels of education.
Malta is generally considered a safe country to visit, and numerous tourists visit the country every year.
11. Switzerland
Beyond skiing the Matterhorn, Switerzland offers an array of other natural and Medieval wonders. Bike through the green city of Geneva. Taste delectable cheeses from Gruyere. Shop in picturesque towns, or hop on a scenic train to zip through the breathtaking Alps.
Switzerland tops the charts as one of the more expensive countries to visit. It may cost around $179 per day during a trip to Switzerland.
Women in Switzerland continually strive toward equality. Many local, entrepreneurial-minded women seek higher education and advocate for anti-discrimination laws.
Switzerland has a considerably low crime rate compared to the rest of the world.
12. Japan
Japan offers an enriching combination of traditional, Asian culture and modern aesthetics. Visit Kyoto in spring to experience the magical cherry blossom season. Book a Ryokan to experience the traditional, Japanese lifestyle, or visit a Neko Cafe in Tokyo to taste the eccentric.
Traveling to Japan can cost less than other Asian Pacific countries with an average daily cost of $114 per day. Much of your travel budget will go toward intercity travel, but the food is surprisingly affordable!
Japanese women traditionally hold their roles as homemakers, but more women seek secondary education and to make their mark in the workforce.
Japan ranks as the safest country in the world with the lowest crime rates of any other nation, making it an ideal destination for solo women travel.
Travel Safety Resources for Solo Female Travel:
Looking for affordable airfare for your solo female travel trip? 
Disclaimer: Data is subject to change. Please visit the travel safety resources for current data on each location.