14 Fair Trade Gifts: Chocolate, Clothing, and More!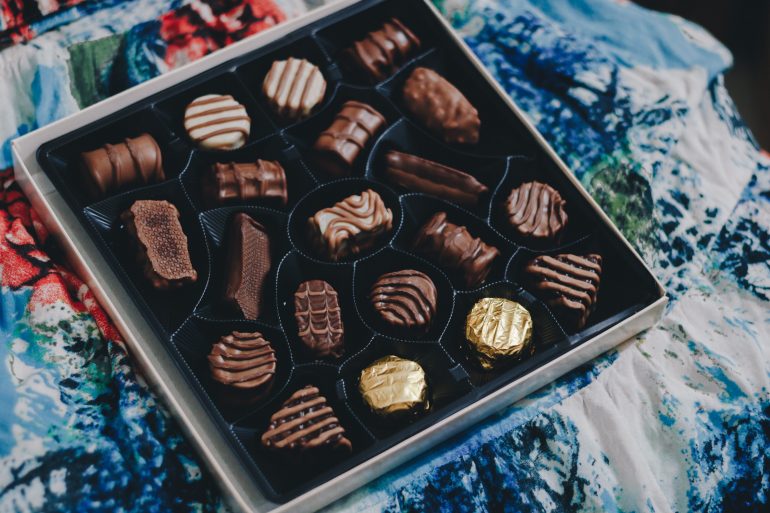 14 Fair Trade Gifts: Chocolate, Clothing, and More!
Few things in the world match the joy on someone's face who just opened "the perfect gift." But what if you could multiply those smiles? What if your gift could join a broader mission that impacted countless lives? Consider giving the ongoing gift of fair trade products.
"Fair trade" represents a two-fold movement for social good across the globe. Fair trade supports the people in developing countries who make the products with good wages and ethical working conditions. Fair trade also promotes sustainability through the preservation of environments and natural resources.
When you give fair trade gifts, you support significant causes with every purchase.
Fair Trade Chocolate
If you want to gift a yummy treat that will make a global difference, opt for fair trade chocolate.
Why Fair Trade Chocolate?
Have you ever thought about the work it takes to make a simple chocolate bar? It requires milk, sugar, and cocoa butter, which gets extracted from cocoa beans. Most cocoa beans are grown in West Africa, and many cocoa crop farmers only make $5 a day to support their growing families. Many children also labor on cocoa farms.
Instead, fair trade chocolate bans child labor, and farmers get paid a reasonable price for their crop. By choosing to give fair-trade chocolate, you help farmers and their local communities thrive.
Yummy Fair Trade Chocolate Brands
1. Divine Chocolate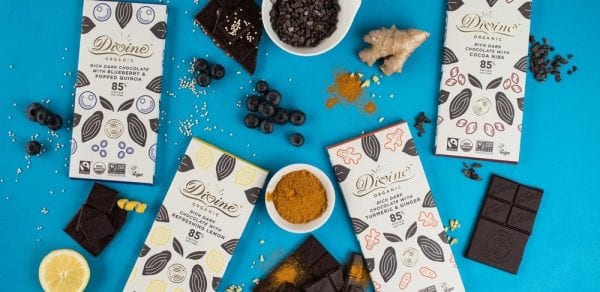 (Source: https://www.divinechocolate.com/us/products)
The award-winning Divine Chocolate is genuinely one-of-a-kind. It directly supports cocoa farmers in Ghana, which is one of four countries that collectively produce 70% of the world's cocoa beans. This company is co-owned by the farmers themselves! If this wasn't enough, 2% of the company's revenue also goes toward empowering women. These bars are soy-free in a variety of exceptional flavors, making it a brand that's easy to support.
2. Endangered Species Chocolate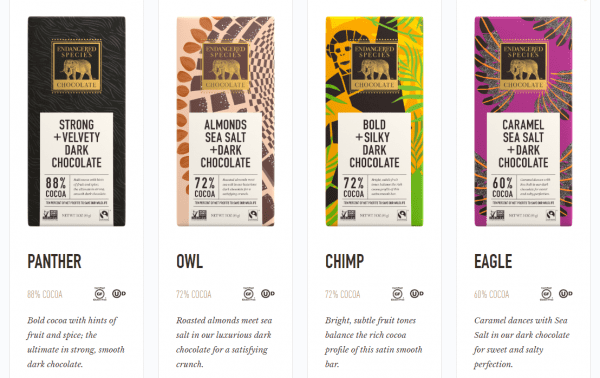 (Source: https://www.chocolatebar.com/product-categories/chocolate-bars/)
Endangered Species Chocolate does more than support local farmers–it also encourages habitat conservation and donates to endangered wildlife organizations. Each chocolate bar showcases abstract art representing an endangered animal, and the inside wrapper gives insightful animal facts. This premium chocolate is also NON-GMO certified and gluten-free.
3. Belvas Chocolate
Belvas is a European chocolate brand in Belgium that's committed to changing the world "one bite at a time." Belvas sources its organic ingredients from farmers in Southern countries such as Peru and Ecuador. You can order these pure-tasting chocolates in lovely gift boxes to give on any special occasion.
4. Green & Black's Organic Chocolate
Green and Black's holds a two-fold social mission: to produce ethically sourced chocolate (Green) and great-tasting chocolate (Black). To achieve its mission, the Pure Dark and Pure Milk Chocolates get sourced through a thriving cocoa sustainability program called Cocoa Life.
5. Raw Chocolate Company
As its name implies, The Raw Chocolate Company produces and packages raw chocolate, which is rich in natural antioxidants. Its cocoa beans are sustainably harvested and sun-dried to keep their most natural flavor. If you prefer to get hands-on with your chocolate, you can even purchase their ingredients to mix your own chocolate creations!
Fair Trade Clothing
You can wrap up a fancy blouse or new gym socks as a present, all while supporting factory workers and preserving natural resources.
Why Fair Trade Clothing Brands?
It's hard to keep up with ever-changing fashion trends. It's even more difficult for the factory workers who make the clothes. This phenomenon is called "fast fashion," where retailers demand ample supplies of inexpensive clothing to meet rapidly changing trends. Not only does this create tons of material waste, but it also permits slave labor, especially among children.
If you want to give someone new clothes, consider these fair trade clothing brands. Each supports ethical working conditions, fair wages, and the abolishment of slave labor. Many also provide organic options that preserve our natural resources.
Comfy Fair Trade Clothing Brands
6. Patagonia
Patagonia is one of the better-known fair trade clothing brands. The company sells some of the best fair trade outdoor wear and active apparel for both men and women. By working with fair trade factories in India, Sri Lanka, and Los Angeles, Patagonia can closely monitor its supply chain to maintain safe and appropriate working conditions.
7. Known Supply
Known Supply works to humanize the apparel industry. Each piece of clothing is signed by the person who made it. You can even visit their website, search the name, and you'll find a face and a story for the person who made it. The company also lets you send a personalized thank you note to the maker! Currently, their employees work from factories in Peru, Uganda, and India. Each person makes competitive wages to support their families.
8. Thought Clothing
Thought Clothing flawlessly binds contemporary fashion with sustainability. The British company offers styles for men and women, and each piece gets crafted from organic materials like hemp and bamboo. This forward-thinking company even showcases an entire section for sustainable socks–available in a variety of fun prints and fabrics.
9. Encircled
Encircled believes women only wear 50% of their closet, and its mission is to simplify wardrobe choices for her. The company sells innovative pieces in neutral colors, so it's easy to mix and match and pack countless outfits for travel. Their fabrics are sturdy, eco-friendly, and produced with zero-waste by designers in Canada.
10. Alternative Apparel
Alternative Apparel crafts some of the comfiest lounging wear from sustainable materials. Organic cotton makes their clothes so soft. Some garments even use plastic bottles to create their Alternative Eco fabrics. By partnering with WRAP-certified factories, the company supports safe and fair working environments for its laborers.
Fair Trade Jewelry & Accessories
If you want to give some bling that makes a positive impact, gift a piece of fair trade jewelry.
Why Fair Trade Jewelry?
Many women in different countries get left at a disadvantage, which means fewer job opportunities. This inequality can lure women and young girls into the toxic cycle of human trafficking in hopes of providing for their families. Countries such as India and Cambodia are notorious for such practices.
On the contrary, fair trade jewelry provides a way out for many trapped women. It allows them to work within a dignified trade to earn a living. Some women have even used jewelry-making to start a thriving business, which pours back into the local economy.
Next time you want to gift a bracelet, consider buying from a fair trade jewelry brand with a mission you want to support.
Beautiful Fair Trade Jewelry & Accessory Brands
11. Fair Anita
Fair Anita started with a passion for helping women caught in domestic violence. Since its foundation, the company has helped over 8,000 women break free from their oppressive relationships. The brand's jewelry comes in classy Country Collections for affordable prices.
12. Sseko
Sseko was designed to help young women in Uganda pursue higher education. The company follows a holistic program that teaches work and life skills to prepare their women for university life and beyond. Their pieces are stunning and classic.
13. Ten Thousand Villages
Ten Thousand Villages connects the maker to the market in a holistic approach. The company celebrates the culture of each its makers by encouraging innovation and indigenous designs with each handcrafted piece. To date, the company has impacted over 20,000 jewelry makers in 30 developing countries. A gift from here will tell a unique story and make a global difference.
14. World Finds
World Finds creates lasting change for artisan women in India. The company's mission empowers women through education and teachable trades, allowing them to preserve traditional crafts and sustain an income for their families. Several pieces are bright and bold, each crafted with confidence.
~~~
Will you consider fair trade gifts for your next special occasion? Whether it's Christmas, Valentine's Day, or a loved one's birthday, you can make a global impact with the gift you choose to give.
You can also make a global impact with your choice of travel insurance.

**Disclaimer: These are not affiliate links. Volunteer Card does not endorse or partner with any of the brands or products mentioned in this article.