How to Save Money with this FREE Travel Budget Template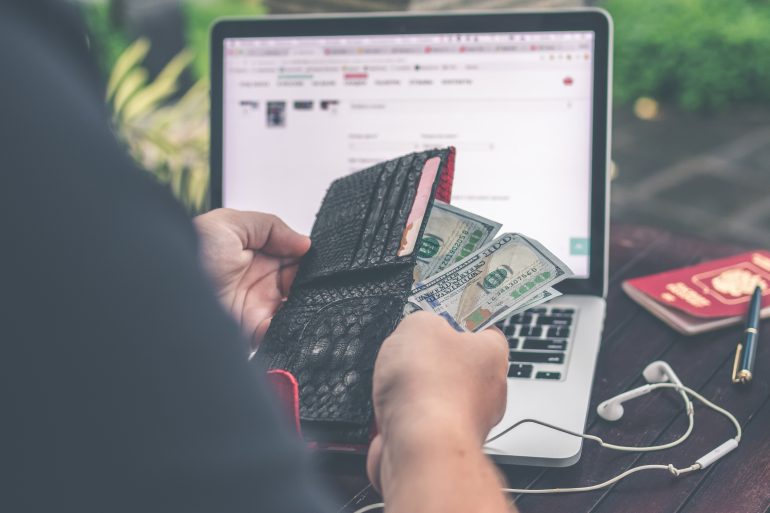 How to Save Money with this FREE Travel Budget Template
Get your free copy of a travel budget worksheet today!
If you want to save money on travel, you need to plan out your finances. Whether you're leaving for solo travel or group travel, you can use this travel budget template to determine your average expenses and discover how much you need to fundraise for your upcoming trip. Feel free to download our free travel budget worksheet and follow along with these four, easy steps to budgeting your next trip.
**Download a free travel budget template at the top or bottom of this page**
Step 1: Research average costs
Before making a travel budget, you should research ball-park prices for what things cost in your intended destination. Then you'll have an idea of what to expect to pay and know what to budget. You can use Budget Your Trip to find the average daily travel costs from actual travelers. This free, expense tracking site lets you search by country for common items such as hotel stays and transit fares to discover their average costs. The site easily converts prices to your preferred currency. Yes, travel budgeting just got easier.
Step 2: Determine group travel size
If you're planning for solo travel, you can skip this step!
Otherwise, you need to nail down how many travelers you're expecting before you can estimate your total trip costs. For example, you might know the price of one plane ticket, but without knowing the total number of flyers, you'll get stuck in your budgeting process. Set a deadline for people to commit to joining the group trip so you can accurately budget early enough to fundraise.
Step 3: Buy travel insurance
Travel insurance is an essential part of your travel budget worksheet.
Whether you're traveling alone or as part of a group, you should always purchase travel insurance before leaving the country. If you want to know when travel insurance comes in handy, check out these eight scenarios where travel insurance saved lives–and pocket-books!
If you're traveling with a nonprofit, an educational program, or for general volunteer work, Volunteer Card offers incredible policies for unbeatable rates! You'll get the coverage you need at a price you can afford, with plans starting as low as $29.
In addition to buying travel insurance, you should set aside at least 10% of your travel budget for emergencies that may occur while traveling.
Step 4: Add major expenses
By blocking your major expenses first, the rest of your expenses will fall into place. Your major expenses will include transportation, lodging, and food. Leisure is a flexible section on the travel budget pie, yet one you should still consider when filling out your travel budget template.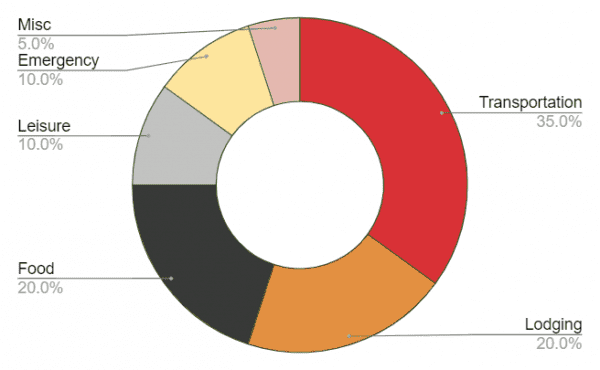 ✅ Airfare
Airfare will likely take the bulk of your travel budget. Plan on allocating 35% of your travel budget toward airfare and other transportation you may need during travel.
✅ Lodging
Lodging costs come in second for large expenses. Unless you're staying with a host family, you should dedicate 20% of your travel budget toward lodging.
✅ Food
When planning a trip, you can't forget about food expenses! Although individual meal costs are a little harder to calculate, you should at least allocate 20% of your travel budget for food.
✅ Leisure
Leisure is completely up to you, and dependent on your free time. If you want to see the sights and splurge on souvenirs, you'll find comfort in setting aside 10% of your travel budget toward leisure expenses. If you're planning a group trip, you can exclude this section from the total trip cost and let each traveler determine how much they want to spend on "fun" things.
Pro tip: Learn how you can save on the biggest travel expenses.
In the end, you should keep at least 5% of your travel budget for miscellaneous expenses. You never know what might pop up along the way!